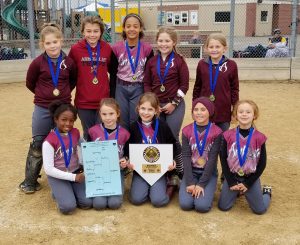 KC Ambush 08, finished the season with a strong weekend outing and on the way to gaining some additional hardware.  I'm REALLY excited about this group as they're really fundamentally sound offensively and defensively across the board.  They really have fun while making it all look good and seamless.  Of course, what 10 year old team doesn't have more things they need to work on?  But THIS group right HERE!!!  They're well on their way to becoming a household name sooner rather than later.
When we began the fall season, we only had one inexperienced pitcher on the roster and we picked up one in hopes of developing her potential to be game ready by next year.  In the mean time, these girls put their heads down and went to work on the practice field.
The first tournament they entered, you could tell they were getting the cobwebs out and it was more of a, "let's see what we got" mood from coaches on down to players.  This time around we knew what we had and was trying to go to ludicrous speed.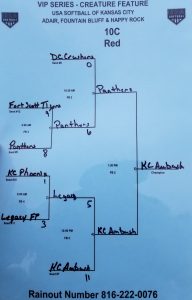 We fell just short of the top bracket (because of a tie) while going undefeated the entire weekend. However, we felt that winning the entire thing was definitely in our realm.
The best compliment we could ever receive… We were in the middle of our semi-final game and afterwards a couple of our fans came over to us and said, "we have to tell you what we just over-heard.  Basically, the coaches (we'd eventually face) were talking while they were looking at our game.  They discussed it'd probably be KC Ambush who we'd play.  They then said, awww man! They don't make any mistakes and are a good bunting  and aggressive team."
Talk about motivation! We're ALWAYS the smallest team on the field EVERY time we play. Their girls were HUGE compared to ours. I pulled the girls over to us close so the other team wouldn't hear what I was going to say to them before the game.
"Hey girls! Come here!… You see that team over there? They're HUGE aren't they?" The girls yelled "YES!"
"Shhhhh! Indoor voices." So the other team wouldn't hear.
"That team is scared of you guys, They were overheard saying how good you guys are and that you don't make any mistakes in the field and how good and aggressive you guys are. Now go SHOW OUT!"
Show out they did indeed. No errors the entire game and a key bunt to pull ahead to a 1-0 lead. Another Double that turned into a home-run when the other team threw the ball around. Eventually, we came away with a 6-0 championship victory.  Excellent weekend the entire weekend with PLENTY to be excited about heading towards next season.
Soon as we ended the championship ceremonies and handed out tournament MVP trophies, the winds and rains pushed us off the field. Perfect timing!
Congratulations girls! You've earned everything you've gotten.
#KCAmbush #TrustTheProcess #BleedMaroon